[07/20/2015 @ 4:45 PM] Open this itinerary on: Priceline, Travelocity, CheapTickets, Orbitz, Expedia, BookingBuddy.
[07/22/2015 @ 9:09 AM] PDX and PHL have very little availability left. Updated example dates.
[07/23/2015 @ 10:29 AM] Most Saturday departures are gone. Flights are mostly on TUE/WED now.
[07/30/2015 @ 12:23 PM] This is an old post. Most of these fares are now featured in their own post. Removing from deal list.
American Airlines has put round-trip flights from Dallas (DFW) to a lot of major cities (see list below) on sale for $125, NONSTOP. Cheapest flights on TUE-WED+SAT, with FRI costing about +$20 more, August to November. Slightly higher priced flights of $157 are available on most days of the week until mid-2016 (for some destinations). Holiday blackouts apply. No New Years, Christmas or Thanksgiving.
Example calendar will be using New York as the destination, but all other destinations seem to share similar dates.
List of participating destinations:
$125-$157 New York (LGA)
$125-$157 Washington  (BWI)
$125-$157 Portland (PDX) – Limited availability TUE-WED+SAT Oct-Nov. Lots of availability if you stay 14-days TUE/WED.
$125-$157 San Diego (SAN) – Low availability, but UA is matching with-stops.
$125-$157 Los Angeles (LAX)
$125-$157 Detroit (DTW) – Cheapest flights only on TUE-WED Aug-Nov.
$125-$157 Philadelphia (PHL) – Basically sold out. Hardly any days left.
Other sales worth mentioning:
I was able to pull up most of these fares on Priceline, and they should be available on other major OTAs. (Example screenshot below).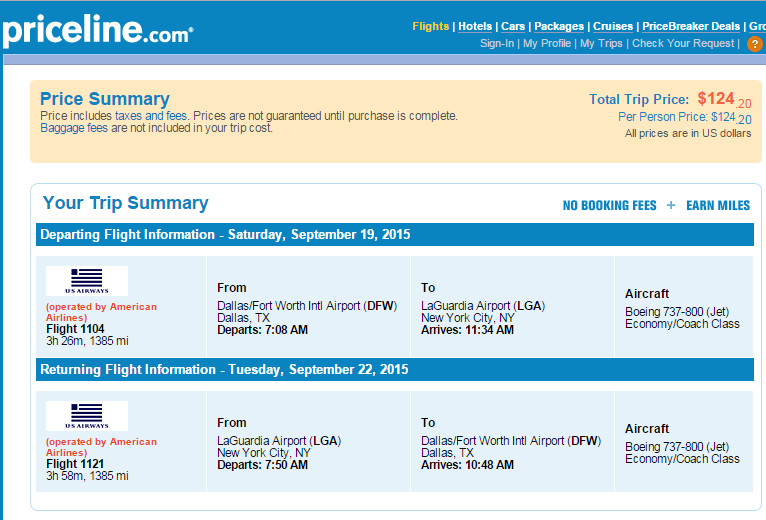 To save the most money, be sure to make use of the travel coupon codes available at the bottom of this post.
Note: OTAs such as Orbitz allow free cancellation before 10 PM CST the day after purchase. As deals sell-out or expire quickly, this policy allows you to "lock-in" the cheap fare while you sort out a plan. After the grace period, you will not be able to cancel without the regular penalty.
United, Delta, JetBlue and Virgin America offer free cancellation within the next 24-hours while American allows you to "Hold" a ticket for 24-hours. Keep in mind that once you pay for a ticket on AA.com you can't cancel it without a change fee or penalty, even if was purchased less than 24-hours ago.
Note that the DOT doesn't enforce 24-hour free cancellation on tickets less than 7-days away from departure, so some airlines and OTAs allow it while some do not. On Orbitz, you can easily see if your ticket allows a free cancellation, just look for "FREE Cancel" next to the price of the ticket.
When you are ready to book, please use the links on our site to begin your booking process so we receive credit for the referral.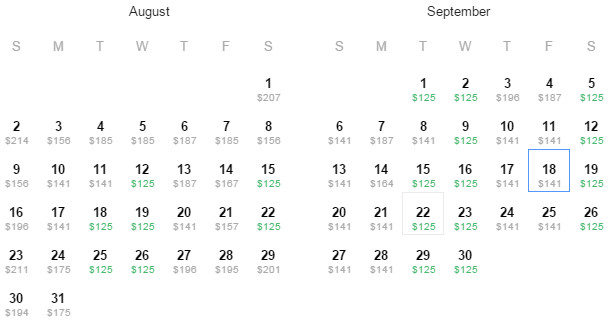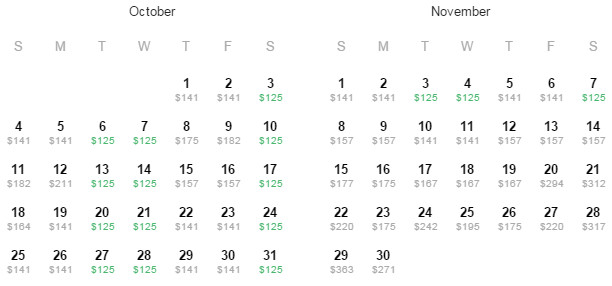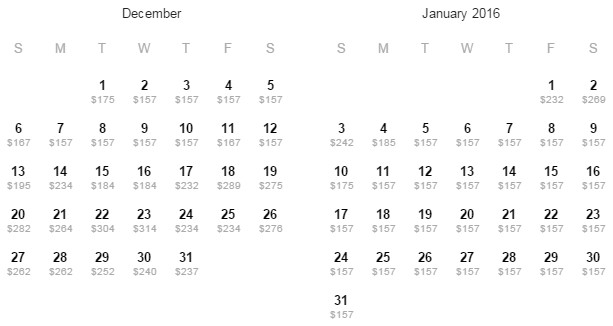 When you begin your search for a Hotel or Vacation Rental in New York please use our TripAdvisor: New York link to find a good place to stay. Booking your trip as a Flight + Hotel package will probably save you more money than if you were to book separately. 
Flight Details:
Availability: See calendar.
Documentation: Domestic Flight.
Departure and Destination Airports: DFW – Varies
Example Dates: New York (Priceline) Sep 16 – Sep 22, 23 / Sep 23 – Sep 29, 30 / Oct 28 – Nov 04 / Nov 04 – Nov 11
Example Dates: Washington (Baltimore) (Priceline) Aug 22 – Aug 25, 26 / Sep 02 – Sep 08, 09
Example Dates: San Diego (Priceline) Dec 08 – Dec 15 / Dec 05 – Dec 08, 09 / Sep 22 – Sep 26 / Oct 14 – Oct 21
Example Dates: Portland (Priceline) Stay 14-days for cheapest fare TUE/WED / Sep 22 – Oct 06
Example Dates: Los Angeles (Priceline) Aug 22 – Aug 25, 26 / Sep 09, 12 – Sep 15, 16 / Sep 15, 16 – Sep 22, 23
Example Dates: Detroit (Priceline) Sep 01 – Sep 08 / Sep 09 – Sep 15, 16 / Sep 16 – Sep 23 / Oct 06 – Oct 13
Example Dates: Philadelphia (Priceline) Sep 02 – Sep 08
Carrier: American
Fare Basis Code:
Fare Class:
Mile Accrual:100% on American.
Stopover component: none
CPM: Varies, Less than 6.0 on most routes (2778 miles)
Full Route: Varies
Previous Low Price:
Open this itinerary on: Priceline, Travelocity, CheapTickets, Orbitz, Expedia, BookingBuddy.
Destination information:
Our Affiliate Links:
This site receives referral credit when you use links on our page to open our affiliate's page. By using our affiliate links when you begin your airfare or hotel search, you are supporting this site. Thanks.
Airfare + Hotel: Priceline, Travelocity, Orbitz, CheapTickets.com, Expedia, Hotwire, Skyscanner, Kayak
Airlines: Iberia, AirFrance, Hawaiian Airlines, Lufthansa, Swiss, Qatar Airways, Emirates, KLM
Hotel Search: TripAdvisor, Hotels.com, HotelsCombined.com
Flights departing from a different city (our other websites):
Other Useful Links:
[Budget Travel] – list all the posts that deal with Budget Travel (filter out all the flight deal posts)