[06/03/2015 @ 1:45 PM] Open this itinerary here: Priceline, Orbitz, Expedia, Travelocity, CheapTickets, BookingBuddy.
[06/24/2015 @ 12:39 PM] Deal is back.
[07/02/2015 @ 3:59 PM] Fare has dropped to $109 from $137. Miami and Orlando have been put on sale as well.
[07/03/2015 @ 11:30 AM] United is matching some routes.
[07/04/2015 @ 12:22 PM] United is still offering most destinations with a connection for about the same price as the AA sale (which was NONSTOP).
[07/06/2015 @ 8:41 PM] American Airlines has put their fares back on sale.
[07/18/2015 @ 10:27 AM] Most fares have increased to $147-$157 for now. Removing from deal list. Will add back later if it drops back into the low $100's.
[07/20/2015 @ 10:20 AM] Deal is back. Less and less availability though.
[07/29/2015 @ 12:42 PM Most MCO fares are gone.
[08/01/2015 @ 12:09 PM] Most cheap Friday departures are gone. Cheapest flights are mostly TUE/WED+SAT now. Example dates still point to some good weekend trips.
[08/12/2015 @ 12:44 PM] Still available.
[10/02/2015 @ 2:11 PM] Very limited and scattered availability. Will not be updating this post until a new batch of discount fares are published with more seats.
The prices and details in this post are accurate only up to the point of the last update to this post. If this post is several days old, then there is a good chance that prices and availability will have changed. This is one of AA's sales where they like to remove it and re-add it every couple of days. If it's not available today, try again tomorrow. Expect prices to fluctuate in a range of +/- $20 from todays price.
American Airlines has round-trip flights from Dallas (DFW) to Fort Lauderdale (FLL), Miami (MIA) or Orlando (MCO) for $107-$114, NONSTOP. Cheapest flights TUE/WED+SAT from August to December. Fare is reversible. Holiday blackout dates apply. See the Flight Details Section of this post for example dates.
Fort Lauderdale has the most availability and is only a short drive from Miami. The other airports (MIA/MCO) have cheap flights but they are mostly restricted to TUE/WED+SAT.
Here's an example of a weekend trip, into Fort Lauderdale (FLL), leaving Dallas on a Friday and returning on a Monday. Other dates are listed in the Flight Details section of this post. This booking was valid as of 8/1/15 on 12:12 PM. Prices of course, can and will change eventually.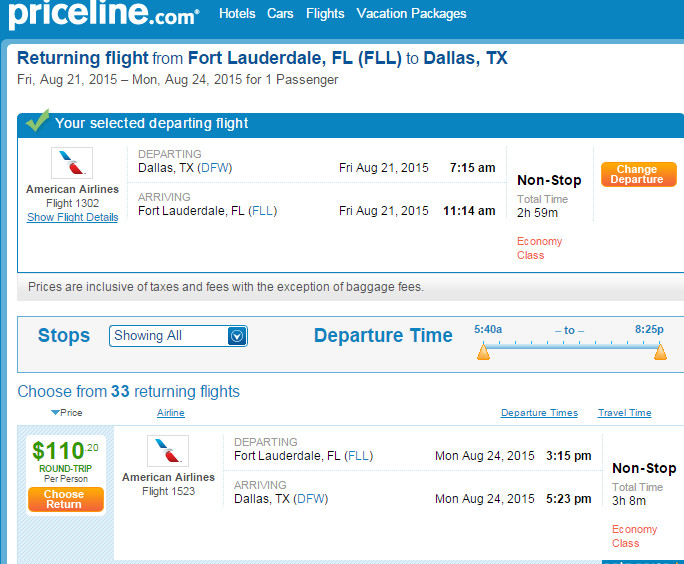 To save the most money, be sure to apply the travel coupon codes available at the bottom of this post. Booking your trip as a flight + hotel package will probably save you more money than booking each separately. Packages on Travelocity or Priceline tend to be better than what are offered directly by the airline, so be sure to compare them before booking.
It's possible to snag the Hilton Fort Lauderdale Beach Resort on Travelocity for a Fri-Mon vacation including for $646 total. This price is for one room, two people, and two round-trip tickets. If the cost were to be split evenly then each person would only be obligated to pay $323 each!

Note: OTAs such as Orbitz allow free cancellation before 10 PM CST the day after purchase. As deals sell-out or expire quickly, this policy allows you to "lock-in" the cheap fare while you sort out a plan. After the grace period, you will not be able to cancel without the regular penalty.
United, Delta, JetBlue and Virgin America offer free cancellation within the next 24-hours while American allows you to "Hold" a ticket for 24-hours. Keep in mind that once you pay for a ticket on AA.com you can't cancel it without a change fee or penalty, even if was purchased less than 24-hours ago.
When you are ready to book, please use the links on our site to begin your booking process so we receive credit for the referral.
Flight Details:
Availability: See Calendar. Most flights are on TUE/WED/SAT, but there are some SUN/MON/FRI flights.
Documentation: Domestic Flight.
Departure and Destination Airports: DFW – FLL
Example Dates: Fort Lauderdale (Priceline) Sep 29 – Oct 06 / Other dates: Try the +/- 3-day search tool on Orbitz.
Example Dates: Miami (Priceline) Oct 14 – Oct 20 / Other dates: Try the +/- 3-day search tool on Orbitz.
Example Dates: Orlando (Priceline) Sep 22 – Sep 29 / Almost no discount fares are available now for Orlando.
Carrier: United
Fare Basis Code: NAA07AWS
Fare Class: N
Mile Accrual: 100%
Stopover component: none.
CPM: 6.56 (2242 miles)
Full Route: DFW-MIA
Open this itinerary on: Priceline, Orbitz, Expedia, Travelocity, CheapTickets, BookingBuddy.
Destination information:
Our Affiliate Links:
This site receives referral credit when you use links on our page to open our affiliate's page. By using our affiliate links when you begin your airfare or hotel search, you are supporting this site. Thanks.
Airfare + Hotel: Priceline, Travelocity, Orbitz, CheapTickets.com, Expedia, Hotwire, Skyscanner, Kayak
Airlines: Iberia, Hawaiian Airlines, Lufthansa, Swiss, Qatar Airways, Emirates, KLM
Hotel Search: TripAdvisor, Hotels.com, HotelsCombined.com, Agoda
Flights departing from a different city (our other websites):
Other Useful Links:
[Budget Travel] – list all the posts that deal with Budget Travel (filter out all the flight deal posts)