[08/13/2015 @ 8:41 AM] Open this itinerary on: Priceline, CheapTickets, Orbitz, Travelocity, Expedia, BookingBuddy.
[08/14/2015 @ 12:48 PM] AA offering nonstops to London for $722. UA / Star alliance lower their prices to match this sale. AA matching on most routes.
[08/14/2015 @ 2:28 PM] I'm not able to pull this up on most booking sites anymore. It looks like most of these are gone now. It still comes up on Google Flights, but those prices are cached and stale. Removing this from the bookable deals list for now.
[08/26/2015 @ 9:00 AM] Deal is back. SkyTeam only. More destinations available than last time.
[08/26/2015 @ 2:16 PM] Oneworld and Star Alliance are matching.
[08/26/2015 @ 4:24 PM] Destinations in Italy, Switzerland, Belgium, Austria, Germany, and the Netherlands have joined this sale.
[08/26/2015 @ 9:00 PM] AA has pulled their fares, but United and Delta still have discounted fares available.
[08/27/2015 @ 1:30 PM] Removed Frankfurt, and Belgrade. Other destinations still seem available. Mostly on Delta / SkyTeam though. Other carriers have pulled most of their fares.
[08/27/2015 @ 2:45 PM] All deals are gone. Congrats to those who were able to pick it up. Removing from deal list.
[08/28/2015 @ 4:58 PM] This deal is back online. Delta / SkyTeam is the only group on sale, for now.
[08/28/2015 @ 5:54 PM] More destinations have discount fares, added Paris, Rome, Berlin, Zurich, and others back to this list.
[08/29/2015 @ 11:17 AM] Fare gone again. Removing from deal list.
This deal was valid at the time of the last update (see time-stamp above). Prices and availability can and will change, given enough time.
Delta and SkyTeam partners have round-trip flights from Dallas (DFW / DAL) to multiple cities in Europe for $522-$703. Flights August to May 2016. Holiday blackouts apply. See the Flight Details section of this post for details.
Deal doesn't seem available on Expedia / Travelocity. Try Priceline or Orbitz.
Here's a list of the destinations participating in this sale.
$522 – Dublin, Ireland
$673-$709 – London, UK
$656  – Paris, France
$626 – Amsterdam, Netherlands
$677 – Frankfurt, Germany
$673 – Manchester, UK
$775 – Edinburgh, UK – Only available from Sep 05 to Sep 26
$643 – Athens, Greece – Very limited availability on the return, unless you like long layovers.
$606 – Madrid, Spain
$624 – Barcelona, Spain
$703 – Ibiza, Spain – Has long outbound layovers.
$648 – Lisbon, Portugal
$672 – Bucharest, Romania
$694 – Zagreb, Croatia
$672 – Belgrade, Serbia
$666 – Sofia, Bulgaria – Has long outbound layovers.
$661 – Warsaw, Poland
$620 – Prague, Czech Republic
$616 – Helsinki, Finland
$652 – Copenhagen, Denmark
$638 – Oslo, Norway
$678 – Budapest, Hungary
$673 – Thessaloniki, Greece
$639 – Malaga, Spain
$619 – Milan, Italy
$622 – Venice, Italy
$635 – Rome, Italy
$619 – Brussels, Belgium
$629 – Zurich, Switzerland
$688 – Vienna, Austria
$668 – Berlin, Germany
$670 – Düsseldorf, Germany
$693 – Hamburg, Germany
(There may be others that I missed, and more may be added later if they go one sale)
To save the most money, be sure to make use of the travel coupon codes available at the bottom of this post. Booking your trip as a Flight + Hotel package will probably save you more money than if you were to book separately. Priceline and Orbitz tend to have cheaper package deals than what the airlines usually offer on their sites, so be sure to compare the package costs on several different booking sites to make sure you're getting the least expensive one.
Note: OTAs such as Orbitz and Priceline allow free cancellation before 10 PM CST the day after purchase. As deals sell-out or expire quickly, this policy allows you to "lock-in" the cheap fare while you sort out a plan. After the grace period, you will not be able to cancel without the regular penalty.
United, Delta, JetBlue and Virgin America offer free cancellation within the next 24-hours while American allows you to "Hold" a ticket for 24-hours. Keep in mind that once you pay for a ticket on AA.com you can't cancel it without a change fee or penalty, even if was purchased less than 24-hours ago.
Note that the DOT doesn't enforce 24-hour free cancellation on tickets less than 7-days away from departure, so some airlines and OTAs allow it while some do not. On Orbitz, you can easily see if your ticket allows a free cancellation, just look for "FREE Cancel" next to the price of the ticket.
When you are ready to book your flight or hotel, please use the links on our site to begin your booking process so we receive credit for the referral.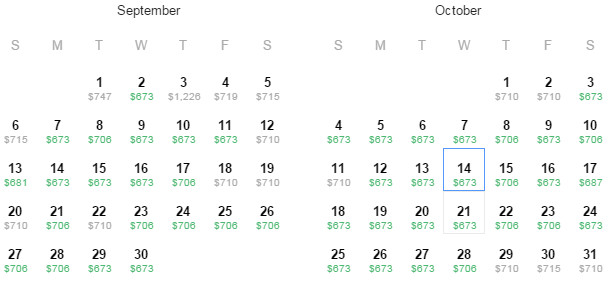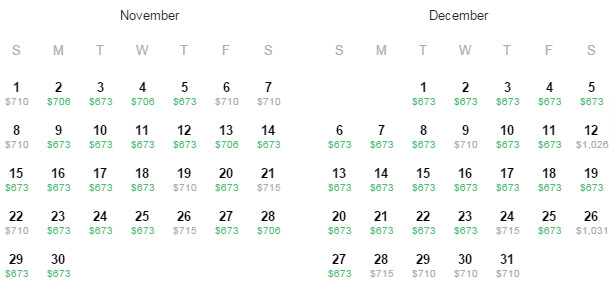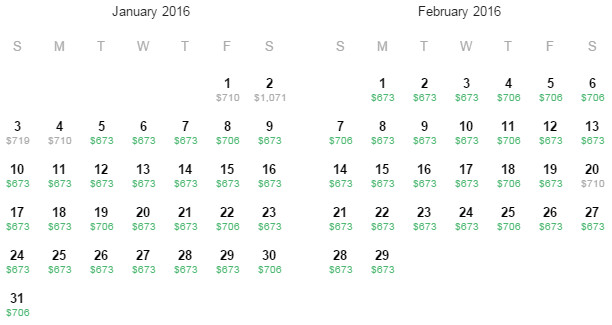 I was able to pull up this fare on Priceline, but it should also be available or Orbitz. Picture was taken on 9:39 AM on 8/26/15. Prices can and will change.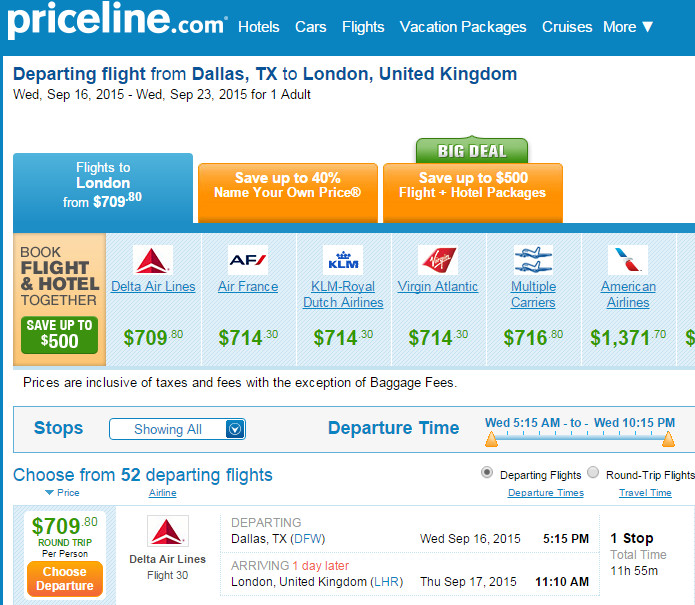 Flight Details:
Destination information:
Our Affiliate Links:
This site receives referral credit when you use links on our page to open our affiliate's page. By using our affiliate links when you begin your airfare or hotel search, you are supporting this site. Thanks.
Airfare + Hotel: Priceline, Travelocity, Orbitz, CheapTickets.com, Expedia, Hotwire, Skyscanner, Kayak
Airlines: Iberia, AirFrance, Hawaiian Airlines, Lufthansa, Swiss, Qatar Airways, Emirates, KLM
Hotel Search: TripAdvisor, Hotels.com, HotelsCombined.com
Flights departing from a different city (our other websites):
Other Useful Links:
[Budget Travel] – list all the posts that deal with Budget Travel (filter out all the flight deal posts)